Chairman
Consulpav, Portugal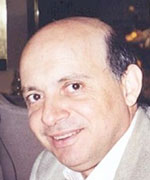 Dr. Jorge B. Sousa is chairman of Consulpav International and has written numerous papers on asphalt rubber and given presentations on the subject in numerous countries.
He has introduced asphalt rubber technology in many countries, including Portugal, Spain, Brazil and China. He continues to be the chairman and organizer for all of the International Asphalt Rubber Conferences (Asphalt Rubber 2000 in Vilamoura, Portugal; Asphalt Rubber 2003 in Brasilia, Brazil; Asphalt Rubber 2006 in Palm Springs, California; Asphalt Rubber 2009 in Nanjing, China; and most recently, Asphalt Rubber 2012 in Munich, Germany).
Jorge was the principal investigator on a project funded by the Rubber Pavement Association (RPA) to develop a Mechanistic Design Method for Overlays taking into consideration reflective cracking, and also principal investigator on another RPA project on the state-of-the-art of tire/pavement noise reduction with the use of open graded asphalt rubber mixes. He was one of the founders and editor-in-chief of the International Journal of Road Materials and Pavement Design.
Back to About