Asphalt Rubber Expert
International Surfacing Systems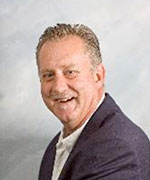 Jeff Smith is a veteran of the tire recycling, chip seal and paving aspects of the asphalt-rubber industry. He started his career in 1977 and has worked with various companies during the last 35 years involving numerous positions from laborer, laboratory technician, project superintendent, marketing director, sales representative, industry consultant, and technical director.
In July of 2004, Jeff took a position with International Surfacing Systems (ISS) and currently serves as their senior pavement preservation specialist. His duties include managing technology transfer in California, Nevada and Arizona, new market development, new product (binder) development, pavement preservation system development, production of sales and marketing literature along with supervising of laboratory testing and materials research.
Jeff is currently president of the Rubber Pavements Association (RPA) and co-chair of the Arizona AGC Pavement Preservation Committee.
Back to About